University Spiritual Life Survey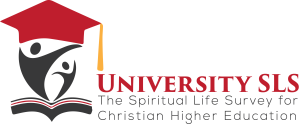 Our University Spiritual Life Survey is all about helping Christian colleges and universities keep their promise to foster spiritual formation in students. The survey provides data to properly assess student spiritual vitality, evaluate program effectiveness, and close the assessment loop. It's about integrity.
When students first came to your school, they brought a lifetime of spiritual experiences, biases, beliefs, and habits that had nothing to do with you. The intent of this survey is to measure the impact of their spiritual history, plus their experiences with your school, on their current relationship with God.
Survey Benefits For Campus Ministry & Student Development
• Explodes the myths about student spiritual formation
• Identifies the key spiritual needs of your students
• Shows which ministries are most effective at fostering spiritual vitality
• Demonstrates how spiritual vitality and collegiate success are linked
• Highlights key opportunities for ministry improvement and innovation
• Reveals who the key spiritual influencers are on your campus
• Provides evidence of student spiritual growth
• Helps leaders target limited resources at the most effective and mission-critical ministries
Survey Benefits For Institutional Effectiveness
• Proven reliability
• Sensitivity to change over time
• Provides key performance indicators for campus ministries
• Well received by regional accreditors and peer reviewers
• Available in cross-sectional or longitudinal designs
• Campus-specific questions may be added to the base survey
• Turnkey data collection, analysis, and reporting by Mission Insights
• Affordable enough to use every year
Participating Institutions
18